Press release and images on Children with development disorders Success within reach from Dilmah
Menu
Dilmah Food Service
Integrity & Ethics
Dilmah Tea Inspired
Leisure and Hospitality
Knowledge & Training
Online Shop
Children with development disorders Success within reach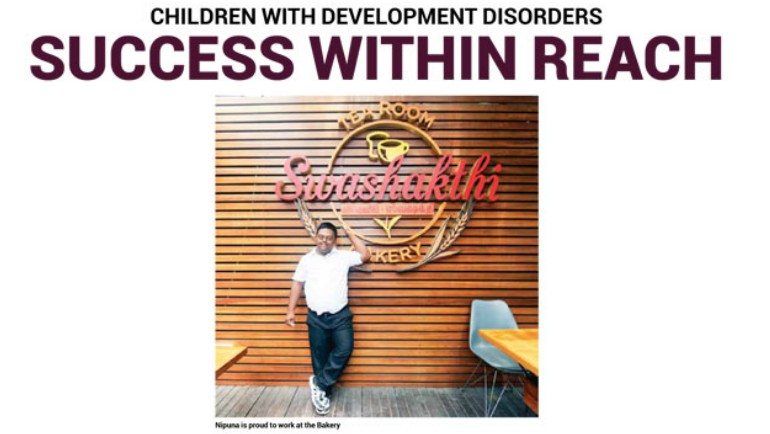 Bringing up children with developmental disorders such as Down syndrome or cerebral palsy can be challenging, and often they are regarded burdensome to the family as well as to society.
People are of the perception that such children should be kept away from others and be educated in special schools.
It is a common misconstrued notion that such children or persons are a burden and are not capable of achieving success in terms of education, career, finance or family life.
Although this scenario is common everywhere, there are instances around the world where persons with developmental disorders have attained a roaring success in their life. Some well-acclaimed individuals such as Angela Bachiller – a councilwoman in Spain, Meghan McCormick – a technical college graduate with honours and Valentina Guerrero – the youngest and most popular worldwide fashion model have proved that success is not out of reach for those with developmental disorders.
Success stories
To our dismay, the success stories of children with developmental disorders in Sri Lanka have not been brought to light nor given due attention in comparison with the wide-spread negative aspects associated with the lives of such children.
The story of Nipuna and Gayashan who work at Swashakthi Bakery and Tea Room in Moratuwa proves that persons with developmental disorders cannot be barred from achieving success in life. Their life story is inspiring to those who have no
disability or disorders albeit are not motivated to be successful in life.
Nipuna Gaganajith Githendra Fernando, 23, is affected with Down syndrome. He has attended a special education school since he was six years of age and has successfully completed his schooling. He is fluent in Sinhala and has a fair knowledge of English.
Nipuna works at the Swashakthi Bakery and earns a good income.
"I wake up around seven o'clock every morning and get ready to go to work. I go to work riding my bicycle. I arrive at my workplace at 8 a.m. and take part in the physical exercise session because it helps me maintain sound health. Then I start work," Nipuna says.
Training
Nipuna had undergone training at the Moratuwa Rainbow Centre in various disciplines and has excelled in culinary field. He is talented in preparing different dishes and he works as a bakery assistant as well as engaged in training newcomers.
"The greatest achievement of my life is the joy of earning a salary. Although I enjoy doing my present job, my desire is to become a jailor or a policeman one day. I'd like to see this world free of crime and people are treated with justice and integrity," Nipuna says.
He takes pride in telling others that every morning he leaves home for employment. "I have undergone vocational training and now I'm employed. My future is secure and I have no fears. I'm confident that I can look after a family if I get married and have children," adds Nipuna.
Nipuna's mother Kamala Jayasundara says her son is an ambitious youth. "I see exceptional qualities and traits in my son that are not found in many of the children with developmental disorders or even in others. He achieves what he desires and works hard despite the impediments that he is confronted with due to the disorder."
Not a burden
Kamala also says her son has applied for a bank loan to buy a vehicle and has shown a keen interest in obtaining a driving licence. "He has a lot of dreams to realize. So far, my child has achieved whatever he wanted in life and I am sure that the rest of his life will be successful too."
Gayashan Lakshitha,24,lives in Panadura. He is affected by cerebral palsy. He is unable to articulate and requires the assistance of someone who is familiar with his
behaviour to interpret it to others. Gayashan is employed at Swashakthi Bakery and Tea Room as a restaurant assistant. The employees at the restaurant say that Gayashan is a dedicated worker in spite of his physical impairment.
According to Gayashan's mother, her son is not a burden to the family. She says, like her other two children, Gayashan also earns an income and supports the family.
Nipuna and Gayashan are an example to the rest of the youth of the country to prove that no physical impairment can inhibit success of a person, if he is ambitious.
Rainbow Centre
The Rainbow Centre in Moratuwa is set up to provide holistic development programmes for students with developmental disorders and special needs and to integrate them into society. Students ranging from the ages of eight months to 35 years are educated and trained in the Rainbow Centre. There are over 120 students affected by Down syndrome, autism, cerebral palsy and other developmental disorders. Various programmes are conducted at the Rainbow Centre to help the children with developmental disorders to integrate into the society successfully.
Swashakthi Tea Room
The Swashakthi Tea Room and Bakery in Moratuwa was set up by the MJF Foundation to empower women from marginalized communities to achieve a sustainable economy and designed with a modern and elegant inner and outer space for dining.
However, with the intention of uplifting the lives of those with development disorders, the Cerebral Palsy Lanka Foundation and MJF Charitable Foundation are to collaboratively launch the first Augmentative and Alternative Communication (AAC) App namely 'Avaz Lanka' as a joint product of Avaz Inc. of India on 16 November. 'Avaz Lanka' App will be available on iTunes in Sinhala and Tamil languages and is the first of its kind in Sri Lanka. This App is an aid for children with autism, cerebral palsy and other developmental disorders who have difficulty in verbal communication.
Please click here to view original article published in the Ceylon Today
Disclaimer Notice
These images are copyright protected and can only be used for Dilmah articles with due credit given.