Press release and images on Chef Peter Kuruvita: COOKING WITH TEA from Dilmah
Menu
Dilmah Food Service
Integrity & Ethics
Dilmah Tea Inspired
Leisure and Hospitality
Knowledge & Training
Online Shop
Chef Peter Kuruvita: COOKING WITH TEA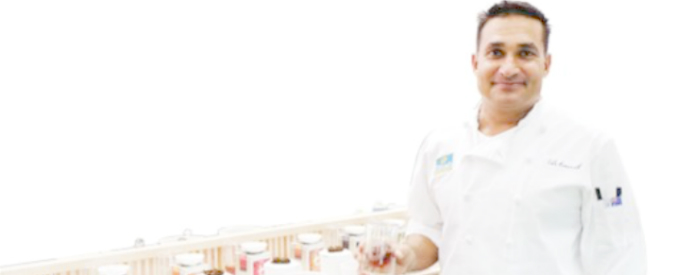 It would be such a waste to use all the lovely tea that you have only to make beverages. The truth is, tea has the potential to jazz up your meal.Australian celebrity chef and Dilmah Tea ambassador Peter Kuruvita shows the tricks up his sleeve to bring the aroma of tea and its infusions into your dishes and even into your vodka. Kuruvita has tasted and experimented with a wide range of teas since 2004 in cooperation with Sri Lanka- based tea company Dilmah.
"For cooks, we are always looking for ingredients. For those who want to be creative, tea has made a big impression," said Kuruvita, who gained worldwide fame for his culinary TV shows, during his recent visit to Jakarta.
"And it's not easy as it sounds, you have to break all the rules to ensure you can get the flavor from the tea."
If you want to present a strong tea taste, Kuruvita suggested you to use black tea that grows in low altitude.
"Tea grows in high altitude - such as green tea, white tea, oolong, [brings] all those lovely soft tea flavors," Kuruvita said.
If you are desiring to present a more unique tea flavor in your dishes, infusions - such as chamomile and jasmine green tea, could be the right choice.
"Chamomile tea, because it's a flower, it is acidy and has got a beautiful back tone to it, but it has the fullness as well. I feel it goes really well with chicken," he said.
Click Here to Read Full Article in The Jakarta Post
Disclaimer Notice
These images are copyright protected and can only be used for Dilmah articles with due credit given.