Press release and images on Ceylon Spice Company empowers spice exporters to reach global standards from Dilmah
Menu
Dilmah Food Service
Integrity & Ethics
Dilmah Tea Inspired
Leisure and Hospitality
Knowledge & Training
Online Shop
Ceylon Spice Company empowers spice exporters to reach global standards
MJF subsidiary in non-tea business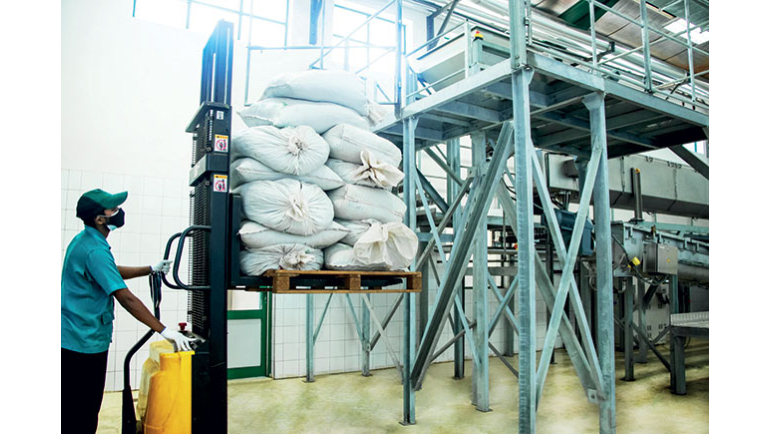 Envisioning Sri Lanka as a global destination for sourcing safe and value-added herbs and spices, Ceylon Spice Company (CSC) now extends its services in providing local exporters advanced milling, sterilization and packing facilities under one roof, a company news release said last week.
"Ceylon Spice Company (CSC) is a subsidiary of the MJF Group. Today, we are supporting local spice exporters affordable access to state-of-the-art technologies for milling and sterilization. The company's highly experienced and trained team has successfully processed over 1,000 metric tons of assorted spices with state-of-the-art facilities designed to minimize process and volatile oil losses, sterilizing herbs & spices using superior European technology – SAFESTERIL® providing bulk and value packing options to its customers," the release said.
"In its endeavor to provide a complete value-adding solution to exporters under one roof, CSC has now commissioned its milling line designed to ensure the highest quality standards. CSC is supported by the 'accredited' Laboratory facilities at Dilmah which screens all raw material and finished product's organoleptic and microbial parameters accompanied by comprehensive reports for each batch."
The release explained that sterilization technology available at CSC consists of patented European Technologies from the heating screw to steam chamber and flash cooler. The sterilization unit provides a homogenous and efficient treatment via excellent product mixing mechanisms, ensuring minimum process & volatile oil losses, and minimum organoleptic changes in the products. The multi-control mechanism to regulate dwell time, product temperature, steam temperature, and exhaust outflow allows customizable and targeted sterilization treatments as per differing requirements.
SAFESTERIL® is based on the patented technology Spirajoule® and UPX®, a patented flash cooler, from ETIA France. Spirajoule® is an electrical heating system which could be used for sterilization, drying, roasting, toasting, pre-cooking etc. And offers customers an environmentally friendly and cost-effective decontaminating solution for exporters, the release said.
"
Ceylon Spice Company
maintains the family traditions of Dilmah, which combines quality, freshness, authenticity and ethics to offer products and services that offer the best of Sri Lanka's centuries of heritage in producing the finest spices in the world. CSC's satisfied customers have enjoyed premium prices and larger orders which bodes well for the Sri Lanka Spice industry."
This article was originally published in
The Island
.
Disclaimer Notice
These images are copyright protected and can only be used for Dilmah articles with due credit given.