Press release and images on Care for a cuppa? Hop into t-Lounge from Dilmah
Menu
Dilmah Food Service
Integrity & Ethics
Dilmah Tea Inspired
Leisure and Hospitality
Knowledge & Training
Online Shop
Care for a cuppa? Hop into t-Lounge
Dilmah t-Lounge plans to open more outlets across the UAE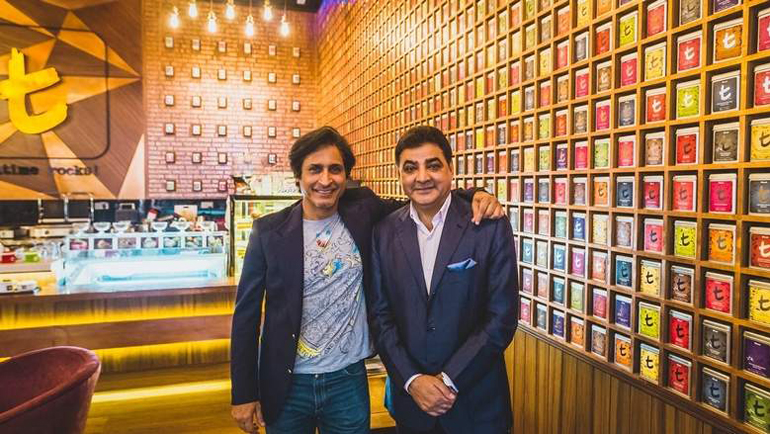 The t-Lounge in Ibn Battuta Mall promises two things - a lovingly brewed cup of tea, and that the customer will be back if they aren't already fans.
The specialty tea lounge is Sri Lankan tea brand, Dilmah's, foray into the UAE market. Khaleej Times caught up with the outlet's co-owners - former Pakistan cricket team captain, Rameez Raja, and chairman of Channel 2 Group, Ajay Sethi, to talk about the lounge and all that it offers. Raja noted that business has been gaining momentum ever since the lounge opened up earlier this year.
"At our t-Lounge, we have been able to break the myth that only a certain mature age group gets cosy with a cup of tea," he said. "In addition to the already existing customer base of Dilmah, who are glad to have a lounge at hand now, there have been many new customers who are proud converts to Dilmah!"
Sethi also noted that feedback has been positive, as customers are surprised at the sheer number of tea variations being offered. "We serve around 50 flavours of tea and over 70 kinds of appetizers and mains to go with particular tea choices," Sethi said.
"It is by far the largest spread of hot and cold flavoursome tea under one roof," Sethi agreed. "Our customers are loving how the teas are presented to them along with the food pairings. We provide a five-star setting in a casual, subtle way, where the tea world engulfs you in its charming magic and vibrant colours. It's a soothing, relaxed environment that takes you on a tea journey worth remembering and repeating!"
Asked about customer favourites at the lounge, the two co-founders noted that the 'Ceylon Silver Tips' commonly known as white tea is a big seller, in addition to the 'Sencha Green', which never fails to attract loyalists. The 'Zafrani Pulled Tea' is another big in-lounge hit and ordered by many for its flavour and presentation. And, of course, iced teas are welcome on a hot day. The tea-infused and inspired sorbets and ice creams are a big hit with children and adults alike.
"One of our most popular and rare teas are the Seasonal Flushes," said Raja. "It takes a unique sequence of 10 straight days of perfect tea weather like sunshine in the morning, strong dry winds in the afternoon and rains in the evening to set up a batch of buds or leaves to pluck. Such teas are rare and are only available in small quantities like 10-12kg through the entire season. Needless to say, they are eagerly awaited by tea specialists and connoisseurs. Our white tea is pretty special too as it has to be plucked early morning within a timeframe of just a couple of hours."
Raja has more than one favourite on the menu. "My favourites are the Ceylon Silver Tips served in a champagne flute glass and the Zafrani Pulled Tea, which create magic on the palate. The Earl Grey Mango tea is sublime too."
Asked about the brand's association with cricket, Sethi said: "As all Test cricket fans know, the tea break is there to ease the pressures of the day's play. My association with cricket and Rameez Raja goes back many years. A galaxy of international cricket stars have already visited the lounge and we will continue to provide our customers with a chance to meet and greet the legends of the game."
"We are targeting cricket events as tea is betrothed to cricket," Raja added. "We would like the cricket fans to sample a Rameez Raja special tea shot or enjoy Dilmah's hospitality at the PSL next year. The SA global T20 is on the radar as well."
Speaking about the future and what fans of the lounge can expect, Sethi revealed that the brand is now in a strong position to launch more lounges and kiosks within the next few months in Dubai and the rest of the UAE.
Raja agreed, saying: "There are definite plans to open more lounges. It's a brand that we intend to take across all of the UAE, not just Dubai. Dilmah is renowned across the world for its high quality teas and customer base. It's a first for them in the Middle East and expansion plans are afoot to open more lounges."
He also explained that the concept of the lounge itself would remain the same as they want customers across different locations to experience the same level of quality and customer service. "A minor tweaking of the menu and decor would be put in play but the ethos, concept and intent remains the same: to provide an elegant refined upscale tea experience to people who love their cuppa."
Please click here to view full Article Published in Khaleej Times - Local Business
Disclaimer Notice
These images are copyright protected and can only be used for Dilmah articles with due credit given.