Press release and images on Adelaide bar Hains & Co teams with Dilmah tea to create new cocktails from Dilmah
Menu
Dilmah Food Service
Integrity & Ethics
Dilmah Tea Inspired
Leisure and Hospitality
Knowledge & Training
Online Shop
Adelaide bar Hains & Co teams with Dilmah tea to create new cocktails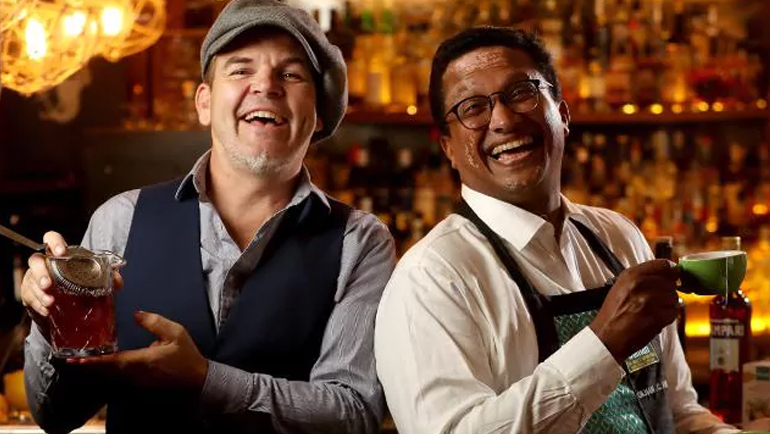 THE mixologists at one of Adelaide's hippest small bars are busy jiggling tea bags as they put a new twist on classic cocktails.
The venerable Sri Lankan tea company Dilmah has collaborated with Hains & Co in Gilbert Place in the development of a range of mixed drinks, including a Ceylon Negroni and Pisco Along the Spice Route.
The project is part of Dilmah's tea gastronomy program, which aims to highlight the variety and differing qualities of the teas distributed by the company, which first established plantations in the early 1950s.
Dilhan Fernando, son of Dilmah founder Merrill, was in Adelaide to see the results.
"We want to express the variety of tea — that it can be light and bright, or earthy, or woody," he explained. "And the best way is through gastronomy. There is a tea that will pick up the caramelisation in a steak and enhance the flavour. And for gin, there is a tea that will work elegantly in a cocktail.
"You have to understand tea as a quality ingredient. It is about building balance and respecting the ingredients. You need to understand the flavour, aroma of the tea and build the composition from there."
Mr Fernando said he believed the project would appeal to a new generation of tea drinkers. "They want to know about provenance, authenticity and sustainability," he said. "But they also want a new experience, an adventure."
Hains & Co owner Marcus Motteram regards the tea as "another botanical" that can add greater depth to his creations.
"It's another arrow in your quiver in terms of things to use to lift and change the drinks in subtle ways," he said.
"It is giving a drink a different kind of twist. Our customers always want to try something new."
CEYLON NEGRONI
Ingredients
Cardamom, Orange and Ginger Tea
30ml "Cocchi" Chinato Cocchi Aperitif infused with tea
30ml Four Pillars Rare Dry Gin
30ml Campari
Grapefruit peel to garnish
Method
Use one tea bag of Dilmah Cardamom, Orange and Ginger Tea per 50ml of Chinato Cocchi Aperitif, steeped at room temperature for minimum 60 minutes with no agitation, or 30 minutes with regular agitation.
To serve
Mix equal parts tea-infused Cocchi, gin and Campari. Pour over a large block of ice and garnish with grapefruit peel.
Please click here to View the Original Article.
Disclaimer Notice
These images are copyright protected and can only be used for Dilmah articles with due credit given.