Press release and images on A true brew sommelier has spoken from Dilmah
Menu
Dilmah Food Service
Integrity & Ethics
Dilmah Tea Inspired
Leisure and Hospitality
Knowledge & Training
Online Shop
A true brew sommelier has spoken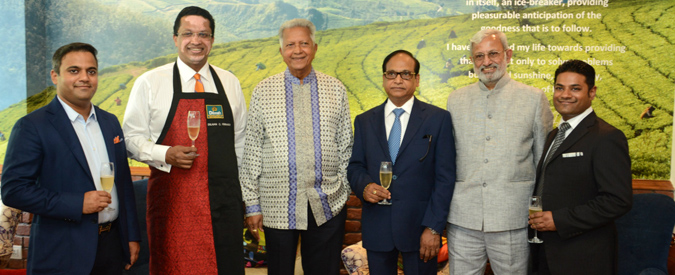 He dreamt about it for a long time. His resolve was enviable. At 55, almost 30 years from the time he first grew passionate about teas, Merril J Fernando introduced Dilmah teas that cocoons the essence of Sri Lanka,s finest. More recently, at 86, he gave an impetus to his entrepreneurial spirit by launching Dilmah t Lounge in Khan Market. It brings you a delicious array of tea, tea-based beverages and tea-inspired foods. Through it all, Fernando hopes to bring back integrity to tea. The tea of the month is the Original Earl Grey, an iconic brew that combines tea with the flavour of bergamot. "It's a distinctive tea with a steady personality. You must try it because I am sure you,ll like it," says the owner. That's 66 years of experience speaking.
Click Here to View Full Article in The Sunday Standard.
Disclaimer Notice
These images are copyright protected and can only be used for Dilmah articles with due credit given.