Press release and images on A 'teatastic' afternoon with Lankan delicacies from Dilmah
Menu
Dilmah Food Service
Integrity & Ethics
Dilmah Tea Inspired
Leisure and Hospitality
Knowledge & Training
Online Shop
A 'teatastic' afternoon with Lankan delicacies
Dilmah presents a Sri Lankan Afternoon Tea for the 21st Century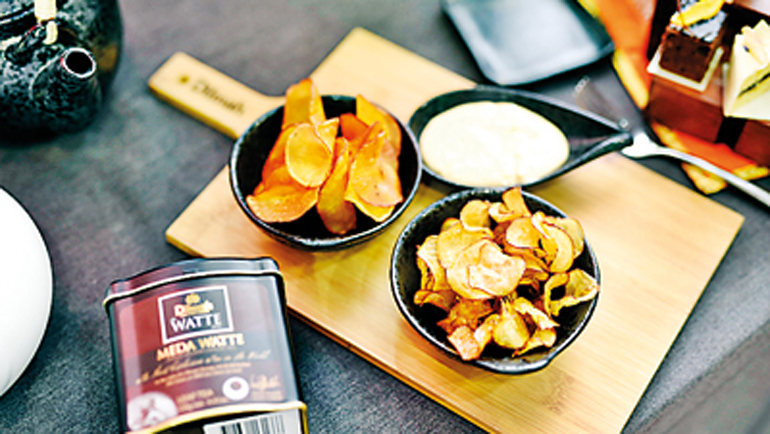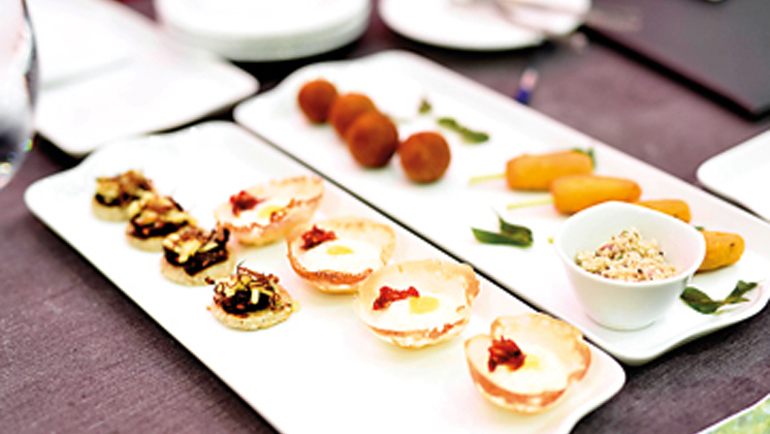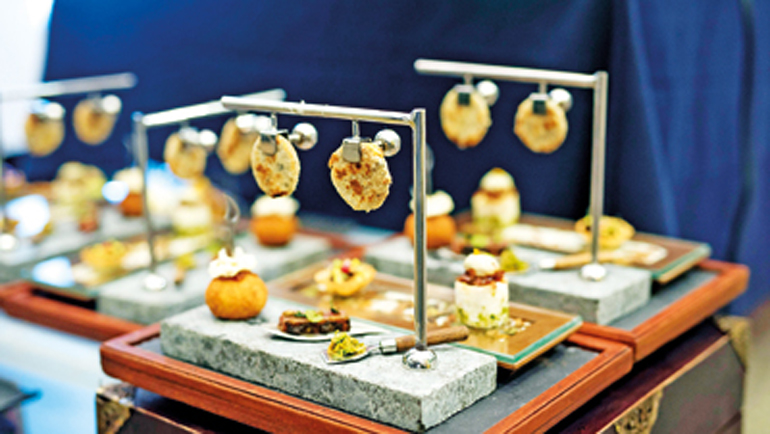 Think afternoon tea and the quintessentially British fare of cucumber sandwiches and scones may pop into your mind. Think again! Soon you may be sampling manioc chips, nutmeg tea infused pork pudding with wild berry sauce and scallops on roti at your next High Tea outing.
So there were surprises aplenty but it was after all, a competition for 'Sri Lankan Afternoon Tea for the 21st Century'. In the fray were chefs from some of the country's best known hotels and they worked their magic in a pressure cooker atmosphere in Hall B at the BMICH to create intricate dishes that reflected new thinking, new techniques and above all, a Lankan flavour.
The contestants had 30 minutes to 'wow' the judges at the Culinary Art Food Expo on October 22 and 23, presented by Dilmah in collaboration with the Chefs Guild of Sri Lanka.
Beating stiff competition the overall winners were the female chefs from Heritance Aarah Maldives – P. A. S. A. Anthonis and M. A. D. P. Mandakini. "The most impressive team (the only all female one) presented with a welcoming table decor, serving interesting and authentic food items with good knowledge of Sri Lankan history/geography/ culture together with great respect for the tea, Dilmah Tea!" the head of Judging panel, Chef Bernd Uber said.
Shangri-La Colombo had the best tea inspired beverage and Club Hotel Dolphin the best tea food pairings. Shangri-La Colombo's winning mocktail used Rooibos, cinnamon, turmeric, ginger and nutmeg Dilmah Tea, adding apple juice, homemade nutmeg syrup and wild berry and garnishing it with fresh mint and dehydrated apple slices. The drink was the perfect appetizing stimulant for their use of 'waraka'and 'bibikkan', which was paired with Dilmah YataWatte.
The displays beautifully intricate, revealed the thought that had gone into their presentation as well. Cinnamon Bey Beruwala served their afternoon tea adorned with traditional Sri Lankan masks.Cinnamon Wild Yala's display had glasses of water with flowers on top of which were glass platters with the food.
The hotels that competed on the first day were Gateway Hotel Airport Garden Colombo, Heritance Kandalama, Grand Hotel, Citrus Hotel Hikkaduwa, Cinnamon Lakeside Colombo and Cinnamon Grand Colombo. On the second day Shangri-La Colombo, Water's Edge Battaramulla, Cinnamon Wild Yala, Cinnamon Bey Beruwala, Golden Crown Kandy, Heritance Aarah Maldives and Club Hotel Dolphin were in the line-up.
"This particular competition is themed for Sri Lanka and hotels are expected to use local ingredients and ideally come up with a completely localised take on afternoon tea for the 21st century. One of the most important things is that they have to highlight tea in everything. There is tea infused food, there are tea pairings, that is food paired with tea. The whole point is to bring out the flavours in each dish and when explaining their dish, they will say which tea they used and why they used it to bring out which flavours," said a spokesperson for Dilmah.
The judges of the competition included Senior Tea Taster at Dilmah Menura Rathnayake, Chef Bernd Uber, Mark Hellbach and Sidath Vivendra Kodikara.
All in all, it was a 'teatastic' experience.
Disclaimer Notice
These images are copyright protected and can only be used for Dilmah articles with due credit given.