Press release and images on A second chance for mangroves from Dilmah
Menu
Dilmah Food Service
Integrity & Ethics
Dilmah Tea Inspired
Leisure and Hospitality
Knowledge & Training
Online Shop
A second chance for mangroves
Biodiversity Sri Lanka and the Department of Wildlife Conservation come together to address the critical issue of biodiversity losses, starting with the scenic Anawilundawa Wetland Sanctuary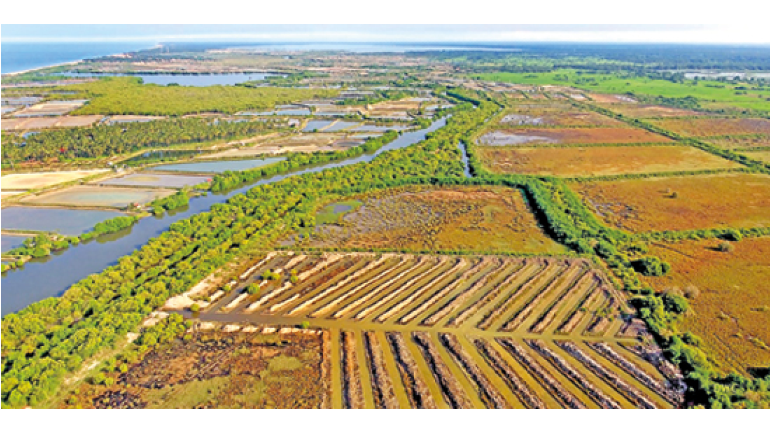 Sri Lankans need no reminder of the value of mangroves, for bitter were the consequences of the 2004 tsunami on lives, homes and livelihoods in the coastal stretches where these 'lungs of the sea' had been destroyed due to callous human disregard for the environment.
Close-up images at a Zoom meeting on Thursday, however, brought waves of hope in these dismal pandemic times, as Biodiversity Sri Lanka (BSL) placed its strength behind a mangrove restoration programme of the Department of Wildlife Conservation (DWC) in the rustic but scenic setting of the Anawilundawa Wetland Sanctuary, a Ramsar site.
With the Memorandum of Understanding (MOU) between the DWC and the BSL to be signed next week and a call going out to BSL members to support this initiative, three did so on Thursday evening itself at BSL's 6th Annual CEO Forum on the theme 'Building back better'.
Reiterating that collaboration is the key to addressing and reversing biodiversity losses, BSL Chairperson Dilhan C. Fernando explained that the latest initiative 'LIFE to Our Mangroves' builds on many others including the Restoration of the Kanneliya Conservation Forest in Halgahawela, Opatha.
"Conserving biodiversity is assuring our own survival," pointed out Mr. Fernando.
'LIFE to Our Mangroves' is a public-private partnership (PPP) with another major stakeholder being the communities dependent on the mangroves for their livelihood.
The members who pledged their support to the latest BSL initiative for mangrove restoration were Eswaran Brothers Exports (Pvt) Ltd., Dynawash Limited and Citizens Development Business Finance PLC.
BSL, with its overall theme of 'A national partnership – business for biodiversity', is a national platform entirely owned and driven by the private sector, established to promote strong engagement of the corporate sector in biodiversity and environmental conservation.
Describing the devastation of the Anawilundawa Sanctuary on the coastal belt between Chilaw and Puttalam from aquaculture projects, DWC's Director of Natural Resources and Protected Area Management, Manjula Amararathna detailed how the DWC set about mitigating the damage through the Accelerated Natural Regeneration of Mangroves (ANRM) Project.
Covering an area of 1,397 hectares, the Anawilundawa Sanctuary consists of forest wetlands including mangroves, coastal saltwater ecosystems and freshwater lakes. It is home to numerous threatened fish, amphibians, mammals, reptiles and birds including migratory birds.
With the DWC looking at restoring the 44.5 ha of degraded mangrove forest patches within the sanctuary, BSL is to take the lead in restoring up to 10 ha (25 acres), using accepted scientific principles.
Mangrove ecosystems provide critical services for the maintenance and wellbeing of biodiversity and are of equal importance to people living in the tropical belt through the ecosystem services that they provide and the options offered by them as livelihoods.
This is while mangroves play a significant role in fighting climate change as 'unique' and productive carbon sinks and by acting as a protective barrier for human settlements, against natural disasters resulting from increased global temperatures.
Explaining that carbon sequestration is a key aspect in mangroves, BSL's Programme Manager Roshan Salinda said that "our efforts" would holistically look at the social, economic and environmental dynamics to derive other co-benefits as well.
"The project will contribute to achieving the Sustainable Development Goals (SDGs) and Nationally Determined Contributions (NDCs). Importantly, it will be designed and executed in keeping with the IUCN (International Union for Conservation of Nature) Global Standards for Nature-based Solutions (NbS)," he said.
NbS are designed to address major challenges such as food security, climate change, water security, human health, disaster risk and social and economic development.
Mr. Salinda went onto give the objectives of 'LIFE to Our Mangroves' as: to enhance resilience and ecosystem services by the identified mangroves; to demonstrate the value of mangrove restoration as an NbS to address the impacts of climate change and socio-economic development challenges, building resilience and community readiness; and to showcase the value of partnership building in contributing towards the reduction of Sri Lanka's climate change vulnerability.
The first two years of the five-year project will focus on planning, forging community partnerships, land preparation, nursery establishment and planting activities and the years three to five on gap filling and maintenance.
A crucial feature is that the physical restoration of the site will be carried out by BSL with the technical support and logistical assistance of the DWC and communities in the area. BSL is to employ local field personnel to work with communities in the successful implementation of project activities. Goods and services, including labour and planting materials are to be procured as much as possible from local sources.
Meanwhile, the keynote speech titled 'Investing in biodiversity in a risk-prone world' was delivered by Environmental Economist Lucy Emerton who focused on the value of biodiversity and ecosystems, the economic and business return on investing in natural capital and the costs, losses and damages associated with failing to do so – including in relation to climate adaptation and mitigation
Launch of BSL Academy: All for the environment
Another highlight of BSL's 6th Annual CEO Forum was the launch of the 'BSL Academy'."The BSL Academy will be a unique, non-university, private entity, a dedicated knowledge exchange centre for biodiversity and the environment, which will operate as a distinctive part of BSL's programme," said the Advisor to BSL, Shiranee E. Yasaratne.She added that an objective of the academy is to strengthen connectivity and exchange of technical expertise between BSL's Technical Resource Bank and its membership.This, in turn, would act as a catalyst to the sharing of best practices, lessons learnt and case studies, spurring more collaborative action.
This article was taken from
The Sunday Times
Disclaimer Notice
These images are copyright protected and can only be used for Dilmah articles with due credit given.