Press release and images on A Fresh Start...Prison Dept's Support Programme For Parolees from Dilmah
Menu
Dilmah Food Service
Integrity & Ethics
Dilmah Tea Inspired
Leisure and Hospitality
Knowledge & Training
Online Shop
A Fresh Start...Prison Dept's Support Programme For Parolees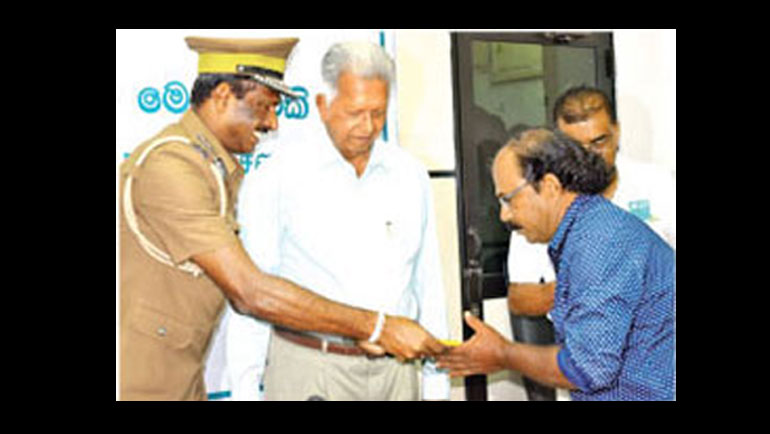 A majority of prisoners, unless serving a life sentence, return to their communities one day. However, they are highly susceptible to reoffending after release, if correctional authorities do not adopt integration programmes during incarceration and offer post-release services.
It can also be observed that ex-prisoners are often faced with economic, social and psychological challenges such as not having a means of living, social rejection, psychological dejection, poverty, poor physical health and addiction to drugs etc. which lead to recidivism and re-imprisonment.
An offender's history of crime or unacceptable behaviour can inhibit employability and not many people would volunteer to offer him support in good faith. In the absence of social and economic support upon release and lack of impact of imprisonment and rehabilitation on the offender, a relapse into crime, followed by re-imprisonment cannot be avoided.
High costs
Owing to the high cost involved in incarceration, the implementation of programmes to integrate ex-prisoners into society and offering them support to commence a new life after imprisonment is a strategic option to prevent recidivism and eliminate recurrent expenditure on prison inmates if they are re-arrested.
As a means of preventing the cycle of re-offending and re-arrest of ex-prisoners, the Department of Prisons initiated a support programme to assist prisoners who are released on parole orders to have a livelihood and encourage them to live with dignity when they re-join their communities.
Under this support project, 25 ex-prisoners were granted financial endowments at an event at the Prison Headquarters in Welikada recently, attended by the Commissioner General of Prisons H.M.N.C. Dhanasinghe, Commissioner of Prisons (Rehabilitation) Emil Ranjan Lamahewa and sponsors of the programme. Financial grants worth Rs 1, 550, 644 were distributed to the beneficiaries to make a fresh start.
Since the inception of this programme in 2007, 280 ex-prisoners have benefitted from it and have made a success of their lives without re-offending. "Prisons do not deter crime but prevent recidivism. I am pleased to say that our Prison Reform and Integration Programme has been a great success with zero recidivism among the beneficiaries over the past decade. Ex-offenders as well as the community as whole, can benefit through such programmes with the elimination of crimes and a productive contribution of ex-prisoners to the community," said the Commissioner General of Prisons, H.M.N.C. Dhanasinghe.
Success story
According to Commissioner of Prisons, Emil Ranjan Lamahewahe, there is a strict criterion for selecting individuals to receive these grants. Prisoners have been carefully observed and monitored during their period of sentence and those with a sound rehabilitation record are selected for the programme.
"The selected inmates are provided with vocational training and skills development programmes in relation to a trade that they are good at, so that they can successfully integrate themselves back into society upon release," he said.
Ananda Jayarathna, a parolee from the Badulla Prison who has served a 10 years sentence said that he had derived immense benefits from the programme. "When I was release from prison after serving a ten year term, I felt frustrated. I was confused about where to begin my life after 10 years of incarceration.Society appeared strange to me as I have been away for a decade and people looked down on me as a person who had committed wrong. No one was there to help me. At that point in my life, I was offered help to start over, through the Prison Reform and Integration programme.
I am extremely grateful to the Commissioner General of Prisons, Commissioner of Prisons and the sponsor of my small scale business - the MJF charitable Foundation, for letting me commence my life." he said.
Jayarathna has received the necessary equipment worth approximately Rs 100, 000 to commence a small scale blacksmith workshop through the programme. As he has undergone training in the field during his imprisonment, he said it was of immense benefit to him to continue his business.
"I was released two years ago and I successfully run my workshop. I receive sufficient income for my sustenance. With the income I receive, I have been able to look after my mother. I am proposed to get married and my in-laws have kept faith in me that I would look after my partner after marriage with the income I get from my business," Jayarathna shared.
Lamahewa went on to say that many government and private sector organizations have contributed to the success of this Programme, which the Department alone wouldn't have been able to achieve. "The Vocational Training Authority, Youth Centre, Ministry of Social Welfare and Ministry of Justice have rendered their support to us in providing vocational training to inmates. I thank MJF Charitable Foundation for their financial assistance to make this programme a success. This organization has been a pillar of strength since the inception of the programme and has spent over Rs 20 million for the welfare of prisoners and have assisted them to successfully integrate into society," he said while adding that the Department of Prisons strive to enhance the lives of the inmates as well as their family members.
Supporting families
Commissioner General H.M.N.C. Dhanasinghe stated that the Department of Prisons is planning to initiate a programme to support families of prison inmates. "As many inmates are hired to commit crimes by anti-social groups, the leaders of such groups become sponsors of their families while they are serving time in prison. Therefore, often, the wife or the children of the inmates become pray to these anti- social groups to sustain the family as they have lost their means of living," he stressed.
He added that the Department of Prisons has also set up a job bank for the children and family members of inmates so that they can help sustain their family while the breadwinner is in prison.

Please click here to view original article in Ceylon Today
Disclaimer Notice
These images are copyright protected and can only be used for Dilmah articles with due credit given.