Press release and images on A compilation of traditional remedies from Dilmah
Menu
Dilmah Food Service
Integrity & Ethics
Dilmah Tea Inspired
Leisure and Hospitality
Knowledge & Training
Online Shop
A compilation of traditional remedies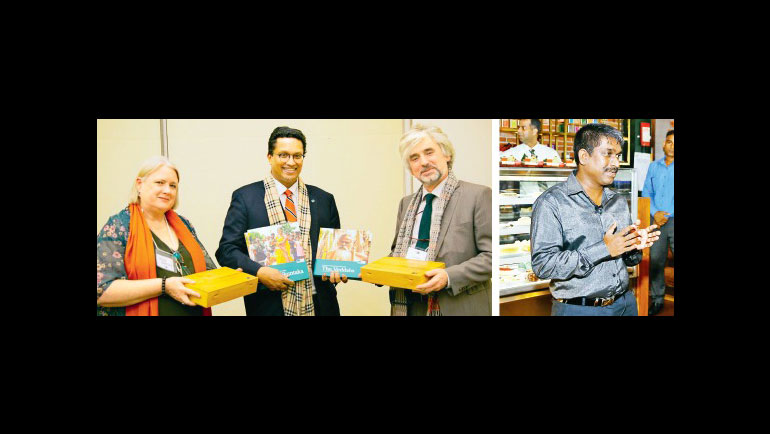 Dilmah Conservation, the conservation wing of Dilmah Tea Services PLC, recently launched a book on traditional Sri Lankan medicine, authored by the Traditional Medical Practitioner Dr. Palitha Sri Geegana Archchige, along with a first aid box consisting ancient traditional Sri Lankan medicines, prepared and prescribed by Dr. Geegana Arachchige himself.
The launching of the book and the traditional Sri Lankan first aid box realizes Dilmah's Founder, Merrill J. Fernando's resolve to carve a niche and unique identity for Sri Lanka's unique medicinal heritage since our own indigenous medicine was not given due attention and the recognition.
The traditional Sri Lankan first aid box is a novel interpretation of Sri Lanka's medicinal heritage. The box, conceptualized and supported by Dilmah Conservation, combines centuries of sacred practices, indigenous wisdom, and goodness of nature to present a first aid box with ancient remedies for everyday common ailments.
With the book Hela Veda Athpotha, Dilmah Conservation intends to make the ancient wisdom readily available to the common people through simplified text which provides rich information on preparing traditional home remedies, its scope of use, and their properties.
Fernando said that, he initiated 'Traditional Medicine Conservation' program in 2012 as a part of Dilmah Conservation's Heritage Conservation project, as a person who is well acquainted with the uses and importance of traditional Sri Lankan medicines, in a bid to familiarize and popularize traditional medicine among Sri Lankan people.
He further noted that an initiative such as this would be of immense significance in an era where the importance of health is felt and understood more strongly than before, especially for those who recognize the value of Sri Lankan traditional medicine, which were used by the predecessors as highly effective remedies.
Fernando said that it is his earnest wish that a healthy and productive nation be produced through their programme.
Recently, Dilmah Conservation took part in the Symposium of United States Committee of the International Council on Monuments and Sites (US/ICOMOS) titled 'Forward Together: A Culture-Nature Journey Towards More Effective Conservation in a Changing World', held in San Francisco on 13 and 14 November.
A case study that Dilmah presented on 'The Impact of Corporate Sector Involvement in Heritage Conservation' was among the 15 international paper presentations selected by the US/ICOMOS.
Dilmah CEO Dilhan C. Fernando presented a paper at the ICOMOS Symposium under the theme 'Stewardship of Bio-Cultural Landscapes in the 21st Century: The Role of Traditional Knowledge and Practices,' which looks at Dilmah's involvement in cultural and natural heritage conservation in Sri Lanka and how a private sector entity can positively impact heritage conservation at a national level.
Concurrently, in the US/ICOMOS Symposium, Dilmah reintroduced Sri Lanka's indigenous remedies in a compact form through a 'traditional first aid box'. The project looks at encouraging people to take an interest in Sri Lanka's ancient medicinal tradition which is much older and different from the more commonly practiced Ayurveda and Siddha medicine.
Dilmah's philosophy of making business a matter of human service is committed to addressing the prevalent social and environmental issues and merging the objectives, both of conservation science and corporate sector, into a single environment of coexistence.
Dilhan at the US/ICOMOS Symposium has said how Dilmah had been successful in establishing a market and identifying heritage while being respectful of tradition and indirectly protecting and conserving it. He further added that company's active involvement throughout the process from the inception goes a long way in preserving sub-cultures and strengthening the island nation's multicultural diversity.
Fernando said in his speech, "success is defined in narrow commercial terms today. Our family values require that we subscribe to a wider interpretation of the term which could be expressed as significance which integrates aspects linked to inequality, climate change to its core business for effective humanitarian and environmental interventions".
Please click here to View the Full Original Article.
Disclaimer Notice
These images are copyright protected and can only be used for Dilmah articles with due credit given.