Press release and images on A Camellia Epicurean dinner: Celebrating the most experienced teamaker in the world from Dilmah
Menu
Dilmah Food Service
Integrity & Ethics
Dilmah Tea Inspired
Leisure and Hospitality
Knowledge & Training
Online Shop
A Camellia Epicurean dinner: Celebrating the most experienced teamaker in the world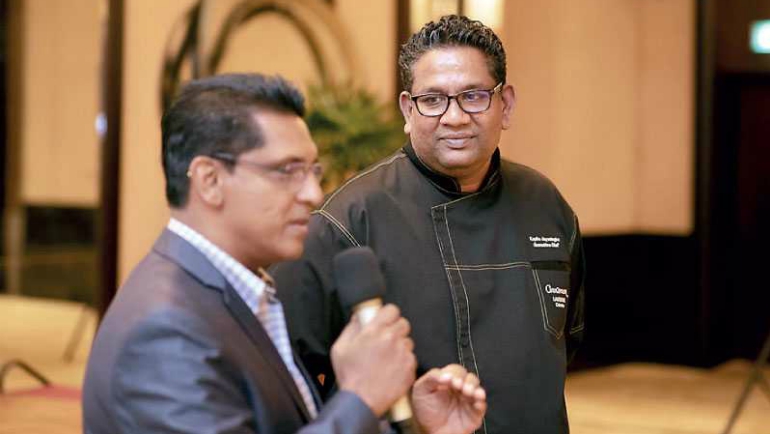 Continuing a tradition of Camellia sinensis – tea-inspired gastronomy that began a decade ago, Dilmah strengthened the brand's collaboration with Sri Lankan chefs, gastronomy and tea at a uniquely tea inspired event.
Chef Kapila Jayasinghe was invited to produce a very special edition of Camellia Epicurean to commemorate Founder and teamaker Merrill J. Fernando's 70 years in tea.
Every element from aperitif to digestif was inspired by one of the three special teas picked by Merrill's sons, Dilhan and Malik Fernando. The tea gastronomy and mixology menu was designed by Chef Kapila Jayasinghe, showcasing passion and taste and highlighting Sri Lankan culinary talent, combined with goodness with the respect for tea, and purpose by inviting all those who attended to look beyond disability with a special guest performance.
Seventy years in tea is no ordinary feat; Dilmah Founder Merrill J. Fernando devoted his life to tea in the 1950s with one purpose of sharing genuinely ethical Ceylon Tea with the world. It was a dream that none had dared to dream. Thirty-eight years of struggle followed and Dilmah was born in 1988. It was the first time that a native tea grower from any tea producing country had launched a genuinely ethical, farmer owned brand.
From these humble beginnings, Dilmah grew as authentic, handmade tea, founded on the unique philosophy of making business a matter of human service. The Camellia Epicurean dinner which celebrated his 70th year in tea, was a night of sensory indulgence and tea theatre brought to life by the commemorative teas – Craighead Estate Celebration Pekoe, Endane Estate Sapphire Pekoe, and Emerald Hills Anniversary Green Tea.
The name Camellia Epicurean, derived from Camellia sinensis – the scientific name for tea – is innovation that respects tea in flavour, aroma and goodness. The tea inspired gastronomy concept was pioneered by Dilmah in 2010.
Chef Kapila's menu included three commemorative teas that were produced especially for the Founder on his 90th birthday. His younger son, Dilhan said: "Tonight we celebrate the passion of the world's most experienced teamaker in service. Passion, because it is an appreciation of my father's 70 years in tea which is a global achievement by any measure, and it is one that is reflected in some of the teas that we are tasting today. It is also a celebration of taste because we have Sri Lankan chefs presenting an entirely Sri Lankan expression of the culinary art."
The event flowed into a rhythmic tribute by Maestro Ravibandhu Vidyapathy followed by unique drumming compositions paired with the spirit of each brew – a performance inspired by Dilmah's innovative concept, 'Tea in Five Senses'.
The dinner featured decadent culinary art combined with unique ingredients, such as a 100-year aged balsamic and crustacean fumet infused with tea, and included a toast with nitrogen gas-infused tea champagne.
Raising a glass, Chicago-based Rotary Foundation Chairman K.R. Ravindran said, "I wonder when Mr. James Taylor planted the first tea plant, if he would have ever imagined that there would be a local, homegrown individual who would dedicate his life to tea in the 1950s. I doubt it. This is a man who has dedicated 70 years of his life to an industry, and the industry itself has become his life."
The evening reached a crescendo with a special performance by youth from the MJF Charitable Foundation's Rainbow Kids program, mentored by Ravibandhu, who showcased their art in music. The teamaker to whom all this praise was given concluded the night by giving thanks to the Lord, all those who attended, but more strikingly had this to say; "The accolades and all praise given to me is actually deserved by Ceylon Tea. Every farmer comes to the realisation that it is heaven and earth that crafts tea, our role is only to finish what nature has done in the leaf."
This article was taken from
Daily FT
Disclaimer Notice
These images are copyright protected and can only be used for Dilmah articles with due credit given.