The One Earth Festival of Trees 2018
Menu
Dilmah Food Service
Integrity & Ethics
Dilmah Tea Inspired
Leisure and Hospitality
Knowledge & Training
Online Shop
The One Earth Festival of Trees 2018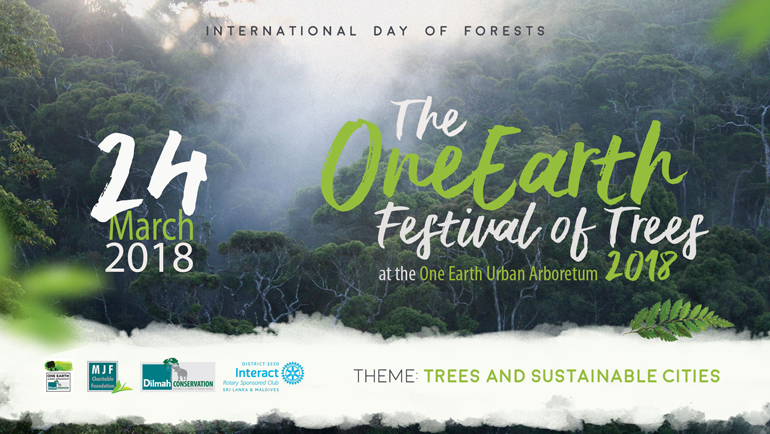 MJF Center, Galle Road, Moratuwa 10400
Register
International Day of Forests
The United Nations General Assembly on 21 December 2012 declared that 21 March of each year is to be observed as the International Day of Forests, to raise awareness of the importance of forests to people and their vital role in poverty eradication, environmental sustainability, and food security. Sustainable management of all types of forests are at the heart of unlocking challenges of conflict-affected, developing and developed countries, for the benefit of current and future generations.
Find out more at: http://www.un.org/en/events/forestsday/background.shtml
Trees and Sustainable Cities
The importance of forest to urban environments
Urban trees and forests contribute in making cities socio-economically and environmentally more sustainable by mitigating some of the negative impacts and social consequences of urbanization, thus making cities more resilient to these changes.
Forests help store carbon thus help mitigate climate change.
They help save energy by regulating local climate.
Trees help reduce air pollution and noise pollution, and regulate water flow.
Trees also ensure food security, support biodiversity and ecosystems, and adds aesthetic value.
Throughout their lifetime, trees can thus provide a benefit package worth two to three times more than the investment made in planting and caring for them
For more information: visit - http://www.fao.org/international-day-of-forests/en/
The One Earth Urban Arboretum
Situated at the MJF Centre, Moratuwa, the One Earth Urban Arboretum houses a wide spectrum of flora, from trees to shrubs, as well as a model Weva or an irrigation tank (reservoir), a paddy field and a traditional agricultural and household resource centre. Through this tangible depiction of natural forests and of Sri Lankan agricultural traditions in the recent past, Dilmah Conservation aims to educate and inform urban populations as well as the younger generation, on the value of trees to our society and our future existence.
Contest Details
The contest is open to participants in the following age groups:
Group 1: 12 to 16 years
Group 2: 17 to 20 years
The winner in each category will be awarded prizes worth LKR 10,000.
Photography
The photographs should conceptualize the theme "Trees and Sustainable Cities" and highlight the importance of trees to the urban environment.
For submission details and regulations please click here
Submission deadline extended until 23rd March 2018.
Sketch a Comic Strip
(2 hours)
Participants may form groups of two.
A3 paper will be provided to participants.
Art work can be in either in colour or black and white.
Students are required to bring their own colouring material, black markers etc.
Leaf Collage
(2 hours)
A4 paper will be provided to participants.
Students are required to bring dried leaves of suitable dimensions for intended collage.
Adhesive material must be brought by participants.
Painting
(2 hours)
A3 paper will be provided to participants.
Only water colour is permitted.
Participants are required to bring colouring material.
Doodle Art
(2 hours)
The theme, "Trees and Sustainable Cities" should be conceptualized through the artwork.
Letters may be used.
Only black coloured markers or pens may be used. Colour are not permitted.
Poetry Contest- Rhyme a Limerick
(2 hours)
As is with limericks, the poem must be have an element of good-natured humour.
Each stanza must have five lines, with a rhyme scheme of aabba
The permitted word limit for the poem is between 150-250
The poem must be written in English
Story Writing - Tell a Tale
(2 hours)
The permitted word limit for the poem is between 800-1000
The story must be written in English
Picture or sentence cue will be provided.
Disclaimer Notice
These images are copyright protected and can only be used for Dilmah articles with due credit given.