Stories of Tea Inspired Taste, Goodness & Purpose
Menu
Dilmah Food Service
Integrity & Ethics
Dilmah Tea Inspired
Leisure and Hospitality
Knowledge & Training
Online Shop
Stories of Tea Inspired Taste, Goodness & Purpose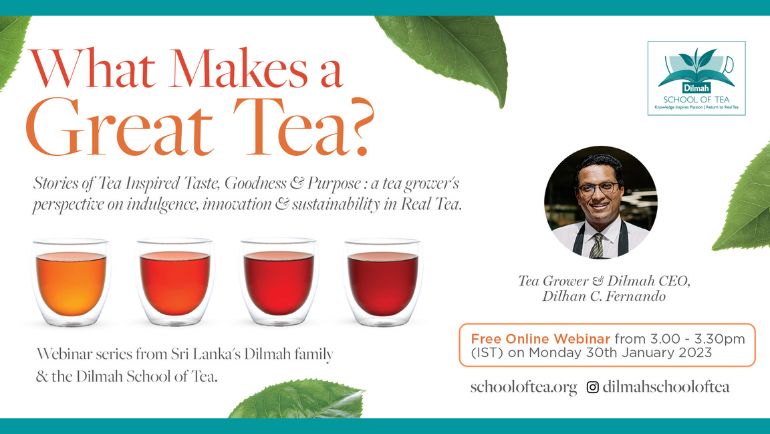 Stories of Tea Inspired Taste, Goodness & Purpose: a tea grower's perspective on indulgence, innovation & sustainability in Real Tea.
There is no herb more relevant to our 21st Century lifestyle than tea, yet real tea - the handpicked and handmade leaf of camellia sinensis, the result of a combined effort of Nature and the Teamaker – is elusive amidst a confusion of beverages that aspire to be tea. Our free webinars connect with the Dilmah Schools of Tea around the world to offer genuine insight into the experience and appreciation of fine tea; from brewing to selecting, to the goodness in fine tea, tea gastronomy and more. Join Dilhan C. Fernando, son of Dilmah Founder Merrill J. Fernando, and his occasional guest, in learning about tea, the art & science of teamaking, the truths, myths and the extraordinary natural luxury in real tea.
Use the link below to register and join us for a 30 minute session followed by live Q&A with Dilhan, with occasional guest appearance by Dilmah Gen 3 and others!
REGISTER NOW
Who Is This For?
Tea aficionados, Hospitality, Culinary & beverage Professionals, Hospitality operators, F&B Management & staff, Procurement Teams and tea enthusiasts modern & traditional.
Disclaimer Notice
These images are copyright protected and can only be used for Dilmah articles with due credit given.