Dilmah School Of Tea 2019, Sri Lanka
Menu
Dilmah Food Service
Integrity & Ethics
Dilmah Tea Inspired
Leisure and Hospitality
Knowledge & Training
Online Shop
Dilmah School Of Tea 2019, Sri Lanka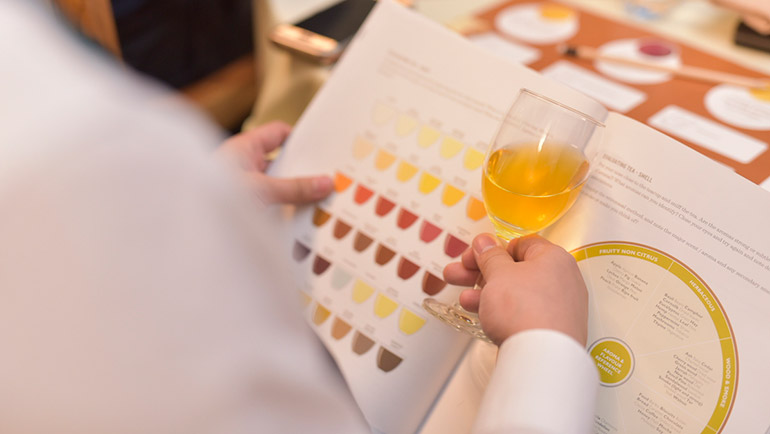 Dilmah Tea 111 Negombo Road, Peliyagoda 11830, Sri Lanka
Dilmah School of Tea 2019 January session will be held from 6th to 10th of February 2019 in Sri Lanka
Curriculum
The Story Behind Your Cup of Tea
Tea is a noble herb and requires a master's touch to bring out its special qualities. The story of a life devoted to tea.
History of Tea & Tea Culture
The heritage of this remarkable herb and its 5,000 year history.
Ethics In Tea
Authenticity, quality and real tea can impact the lives of millions of tea industry workers in developing countries and on their Environment.
The Manufacture & Cultivation of Tea
Real tea is made by a traditional method, and starts with two handpicked leaves and a bud.
Food Matching With Tea
Tea gastronomy and the harmony of tea with cakes, pastries and savoury food.
Tea & Health
Tea offers protective benefits against every chronic disease and is truly nature's healing herb. Learn about the science behind the health benefits in tea.
Discovering Taste & Sensory Evaluation
The aspect of terroir in tea offers tea aficionados an array of hues, aromas, flavours and textures in tea.
How To Brew The Perfect Cup of Tea
Real tea, produced with expertise and love, requires care in brewing to produce a truly extraordinary tea experience.
Tea Mixology
A tea for every mood and occasion; t-cocktails, t-mocktails, the art of making beverages with tea.
Profiling The Teas
Presenting tea with expertise to enhance the appreciation of tea on the eye, nose & on the palate.
Advanced Sensory Evaluation
Training the senses of sight, smell and taste and incorporating textures for better appreciation of tea.
Terroir Mapping
Exploring the influence of terroir on the various nuances of tea.
Tea & Cheese
Tea can help mellow the sharpness of cheese or bring out more flavors in cheese.
Train The Trainer
Knowledge in tea paired up with the creativity of the participants to demonstrate their take on tea.
Disclaimer Notice
These images are copyright protected and can only be used for Dilmah articles with due credit given.